The Moscow Consulting Group
is a global network of top-tier management consultants and
blue-chip industry experts
The Moscow Consulting Group employs an advanced
business model unique for Russia and based on a flexible approach to forming project teams – combining in-house consultants with carefully selected independent consultants and industry experts. Our leadership consists exclusively of former McKinsey & Company consultants who share similar values and professional standards. Our unique business model helps our clients achieve tangible results and receive the best team composition at the most reasonable expense.
Read more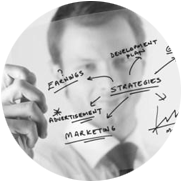 How we work
MCG applies a tailored approach to each project by developing a custom made framework at the project scoping stage and guaranteeing the most pragmatic and relevant results for the clients.
read more