MCG is a team of top-notch professionals with wide variety of talents and expertise. Our solutions deploy classical management consulting tools and digital innovation and creativity approaches.
The Moscow Consulting Group employs an advanced business model which allows to form each project team specifically tailored to the client needs. For each project MCG successfully combines in-house specialists with carefully selected independent consultants and industry experts. We continuously seek for deployment of innovations, new technologies and digital solutions. We build value to our clients through creative approaches to structuring business solutions, deep expertise in modern technologies, and constant thirst for impact maximization.
Read more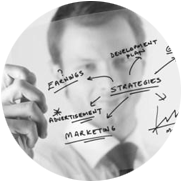 How we work
MCG applies a tailored approach to each project by developing a custom made framework at the project scoping stage and guaranteeing the most pragmatic and relevant results for the clients.
read more