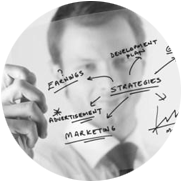 How we work
Historically, top-tier consultants like McKinsey, BCG and Bain could only serve a limited number of clients. But the economic field requires strategic thinking from all economy players, regardless of their size or financial situation.
Our unique business model helps our clients achieve tangible results and have the advantage of the optimal team make-up at the most adequate and reasonable cost.
Our goal has always been to offer the quality of top-tier consulting services firms for reasonable prices, affordable to those who are ready to deploy best practices and make significant next steps in their business evolution
Today we are proud to pioneer a unique business model in management consulting services on the Russian and CIS markets. Our business model relies on three major pillars:
1)
The Moscow Consulting Group leadership uses the experience and standards we inherited from our
Alma Mater McKinsey and Company.
2)
We actively deploy freelance scheme to form our
project teams, in order to combine people from
top-notch consulting firms with trained consultants
from second-tier companies and Big-4, as well as
people with vast industrial experience suitable for particular clients' needs.
3)
We hone and develop our vast network of industry
experts. Through our previous experience, extensive networks, and robust internal business processes, our teams can get timely access to up-to-date industry knowledge, oversee trends, risks and opportunities.