all profiles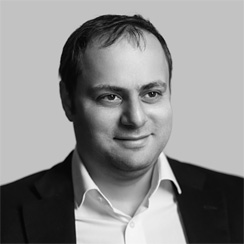 Dmitry Khokhlov
Partner
More than 15 years of professional experience in international corporations, including McKinsey&Company, Procter&Gamble, SC Johnson, Samsung Electronics. MA from Korea University (ROK)
Education
MA from Korea University in International Business (ROK)
Digitalizm. Co-founder. Created digitally centered business strategies, and marketing campaigns and integrated brand communications for the world leading FMCG, retail, consumer electronics and financial services brands.
McKinsey & Company. Was a member of McKinsey European Marketing and Sales practice. Managed projects for FMCG, retail, telecommunication, and banking clients on marketing strategy, growth & business unit strategy, process optimization, sales and distribution topics.
Prior to joining McKinsey, Dmitry worked in brand marketing in Procter and Gamble and SC Johnson in Russia and Samsung Electronics in South Korea.